24" Tapersawn Shakes
Custom Shingles' 24" Tapersawn products are sawn on both sides for a semi-textured look that has more in common with shingles than conventional shakes. However, like shakes, they have a strong shadowline and are installed with a felt overlay placed between courses. Use them in any project where a balance between rustic and refined is sought — our Tapersawn shakes are a popular choice in vacation homes, villas, cottages and other luxury properties.
24in Tapersawn shakes are a minimum 4" wide and range in thickness from ⅝" to 1-½". Our product is made from premium-grade Western Red Cedar, and consists of 100% edge grain, clear heartwood with no defects. Western Red Cedar, one of the most abundant Cedar species on the planet, offers excellent natural resistance to moisture and decay. As a result, it's a great choice for roofs and siding in any climate.
Details & Examples:
Custom Shingles has a long history of helping builders and architects realize complex roofing projects such as historical restorations and renovations. Our 24in Tapersawn shakes are can be used on any roof with a 3:12 pitch or steeper. We are unique in our ability to steam-bend our products lengthwise, sideways or diagonally to create curved eaves, rolling gables and other custom architectural features not possible with an off-the-shelf product.
Our shingles can also be cut to any of the decorative profiles in our Fancy-Cutt™ lineup, or to a custom design of your specification. In short, whatever a project requires, we can supply the roofing products necessary to get the job done right. To see examples of our products in action, be sure to visit our Portfolio Gallery and blog, where we highlight some of the many builds we've completed in the past for demanding customers around the world.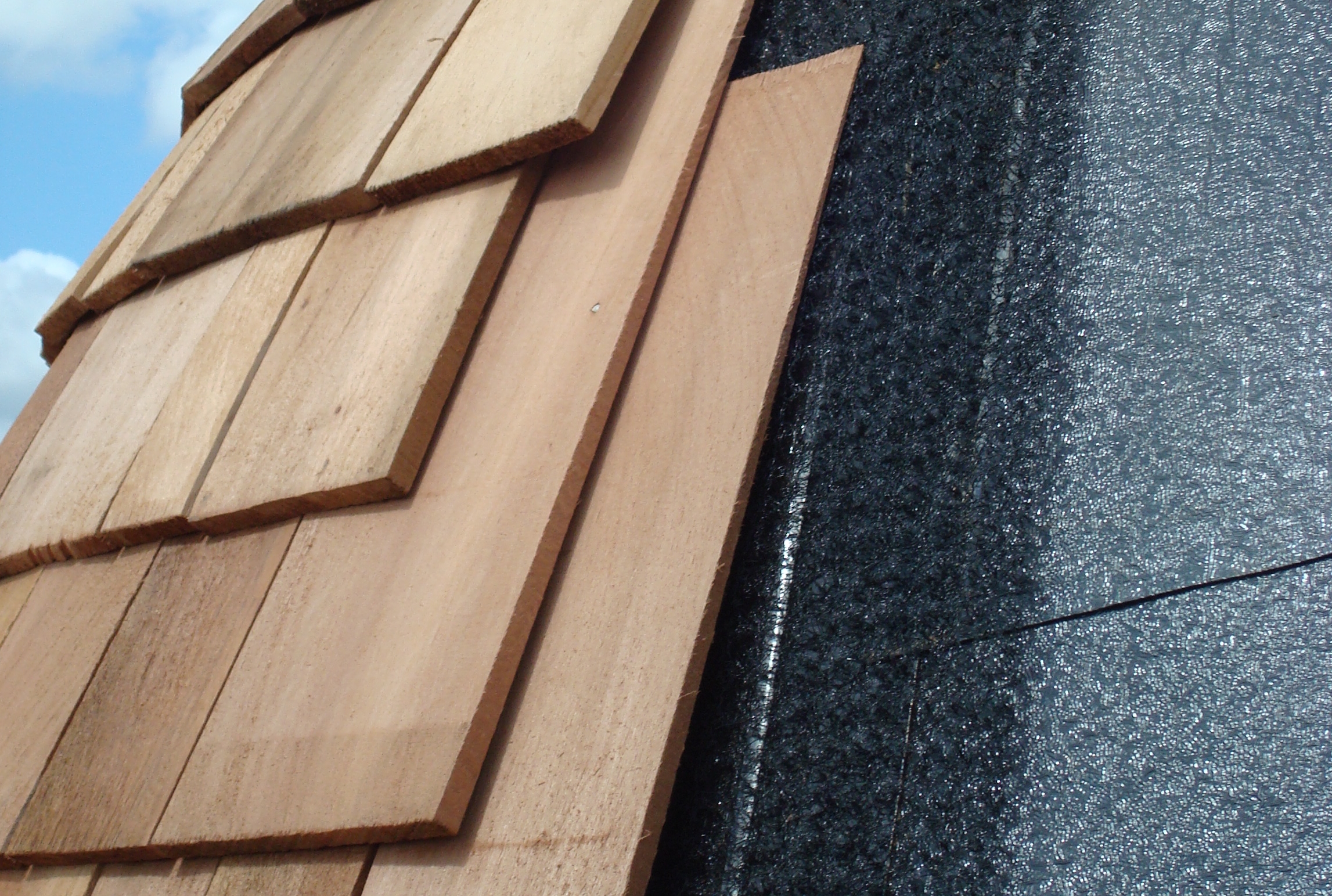 Images © 2006-2016 Custom Shingles
Finishing Options
24" Tapersawn shakes can be delivered to you unfinished or with any of several treatment options. Your choices include pre-staining in any of several different colors, CCA (chromated copper arsenate) treatment for long-term mold and mildew resistance — a worthwhile upgrade for any project in a damp or rainy part of the country — or Certi-Guard™ fire treatment to meet Class A, B or C roofing requirements.
Our products ship worldwide from our Florida facility. Minimum order requirements for select projects can be as little as a single case. For more information, or for a detailed quote, please use the form on this page to submit your request. A sales representative will get back to your shortly with answers to all of your questions.
Request a Quote
Got a question? Send us an email, using the form below, or call our office at 386-487-1015 (local) or 877-323-3553 (toll-free)
Order Information:
There is a minimum order requirement for some of our products. For curved Cedar shingle orders, the minimum quantity requirement is just one (1) box. For Fancy-Cutt shingles, the minimum order is five (5) boxes. Depending upon current inventory, our minimum order for Wallaba and Teak shingles is generally 2,500 SF. Please contact us for additional details.