48" Shingles
Our 48" shingles are our largest Cedar roofing product, and an excellent choice for specialty projects such as historical restorations where an off-the-shelf shingle or shake won't do. They can be used in both roof and wall applications — because of their size, they allow for a large gap between individual pieces, creating a unique, striking visual impact.
Details & Examples:
Custom Shingles' 48" shingles are made from Western Red Cedar, an abundant and cost-effective variety with a high natural resistance to decay. Over time, Western Red Cedar shingles will lose their characteristic burgundy appearance, maturing to an august silver-grey color.
48" shingles are sawn on both sides for a smooth, tailored appearance. They are random in width and can be cut to a thickness of your specification. Because of their size, they will retain a watertight seal without the use of a felt interlay.
Use our 48" shingles for Cedar siding or on roofs with a pitch of 3:12 or steeper. Maximum exposure length can be up to 14 ½". In any application, our shingles provide an appearance of exceptional quality and professionalism, while retaining much of the charm Cedar roofing is known for.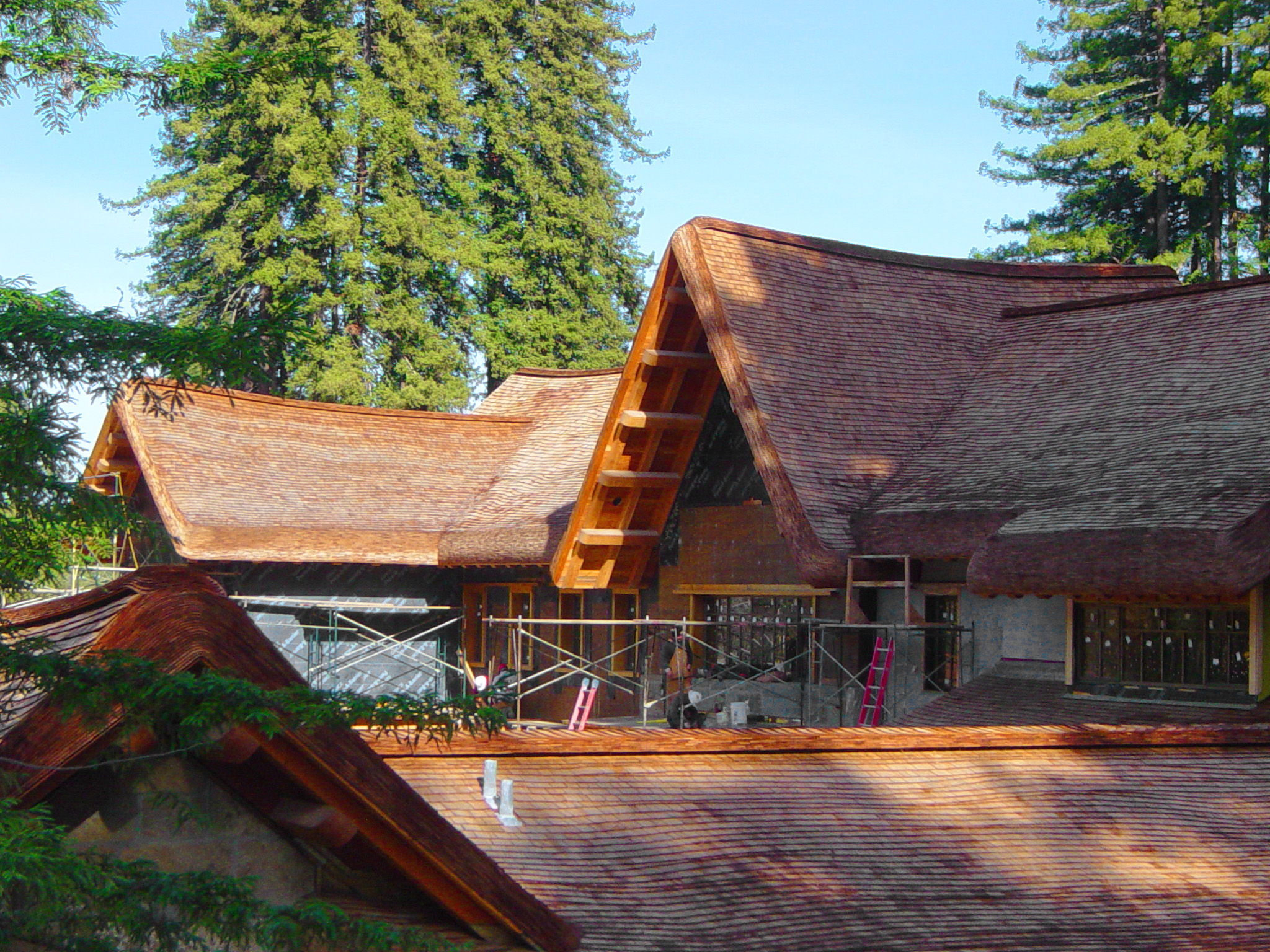 Images © 2006-2016 Custom Shingles
Customization Options
Our 48" shingles are a unique product in their own right. With an extensive selection of customization options, however, their design possibilities are expanded even further. We have extensive in-house steam bending and shaping capabilities, allowing our team to create eye-catching architectural features, such as rolling eaves and curved gables, that would be impossible to achieve otherwise.
Our shingles can be cut to any profile in the Fancy-Cutt™ lineup, or to your own custom design. We can also deliver our 48" shingles pre-stained in the color of your choice, saving you time and money in the installation process.
Finally, we offer the option of having our shingles treated with our Certi-Guard™ fire retardant, or with a CCA (chromated copper arsenate) coating. We recommend CCA for any outdoor application that will be exposed to rain, snow and other harsh weather conditions, while our Certi-Guard™ shingles are approved for use in Class A, B or C-compliant roofing systems.
Request a Quote
Got a question? Send us an email, using the form below, or call our office at 386-487-1015 (local) or 877-323-3553 (toll-free)
See Our Products in Action and Request a Quote Today
Visit our blog to read detailed case studies highlighting some of the memorable Cedar roofing projects we've been involved with over the years. You can also check out our Portfolio Gallery to get inspired, or contact our office to speak with a representative about your specific requirements.
To request a quote, submit the details of your project using the form on this page. We are happy to provide fast, professional shipping and service to customers throughout North America and beyond.