Curved Gable Shingles
The unique look provided by a curved gable gives a cottage roof an otherworldly character — one that transports the viewer far from everyday life and into a place out of time. Traditionally, however, curved gables have presented a considerable engineering challenge, particularly on wooden roofs.
We are distinguished by our ability to meet the complex design and restoration challenges posed by today's most demanding customers.
As part of our Country Cottage Roof system, we offer curved gable shingles in a range of sizes and configurations. Keep reading to learn more, or contact our office directly to request a quote for your project.
Uses And Applications
Our Cedar shingles can be curved against the grain (side-to-side) for use in large rolling gables as well as rounded columns, carrot rakes, canoe valleys, inset window walls and other architectural details that add interest and mystery to a roof. Choose from a range of pre-shaped shingles, or let us develop a custom product formed to the specific radius you require.
Our curved gable shingles can be found on luxury resorts around the world, as well as private estates and residences. Curved gables are an important component of storybook homes, Tudor revival buildings and even more contemporary builds. The possibilities are limitless when you work with Custom Shingles!
Get inspired by visiting our Portfolio Gallery or by speaking with a representative directly to discuss your idea.
Our advanced customization capabilities make us the ideal partner for demanding historical restorations. Custom Shingles was chosen to restore the Cedar roofing on the Chapel of Roses, a church in the English Tudor style designed by noted architect Francis Harvey Slocombe. This project involved precision bending Cedar shingles to recreate the idiosyncratic curves found along the building's gables, eaves, ridges and hips. Photos of the impressive end result can be seen in our blog.
Details & Examples:
Any of our shingles or shakes can be shaped for use in a curved gable. Western Red Cedar is our most popular shingle material, as it is abundant, cost-effective and possesses excellent natural resistance to decay. We also offer shingles in Alaskan Yellow Cedar, which is more finely textured and better at repelling moisture, and Eastern White Cedar, which has a more neutral color that takes well to stained finishes.
Other options include exotics, such as Teak and Wallaba, which contain oily resins that provide superior protection against weather damage. When natural wood isn't an option, we can also provide high-quality composite curved gable shingles that offer all the benefits, as well as the unique look, of Cedar.
Any shingle or shake can be pre-stained in your choice of colors, or treated with fire-retardant or anti-mildew products for additional safety and longevity.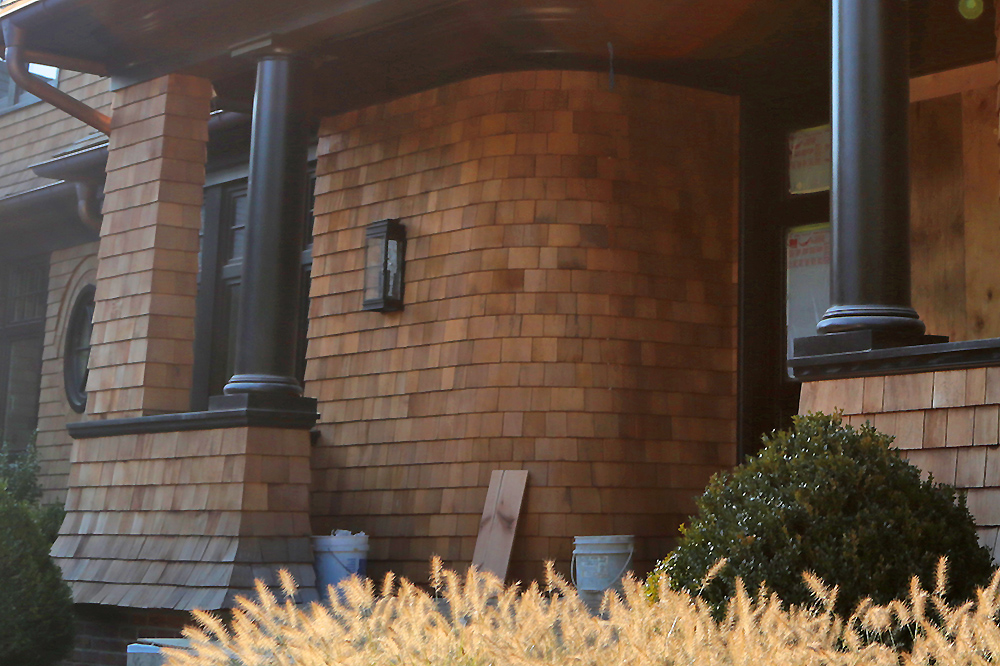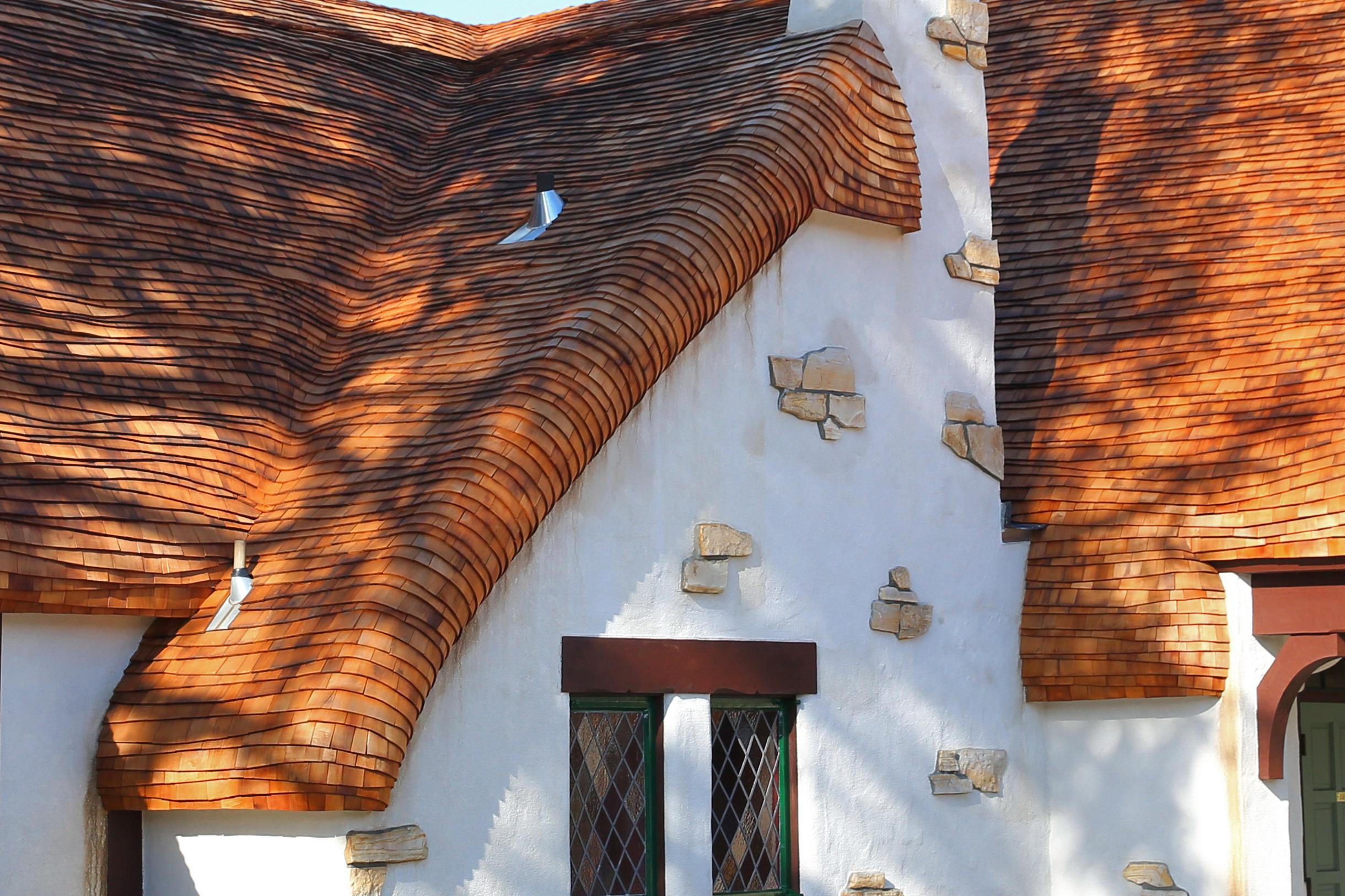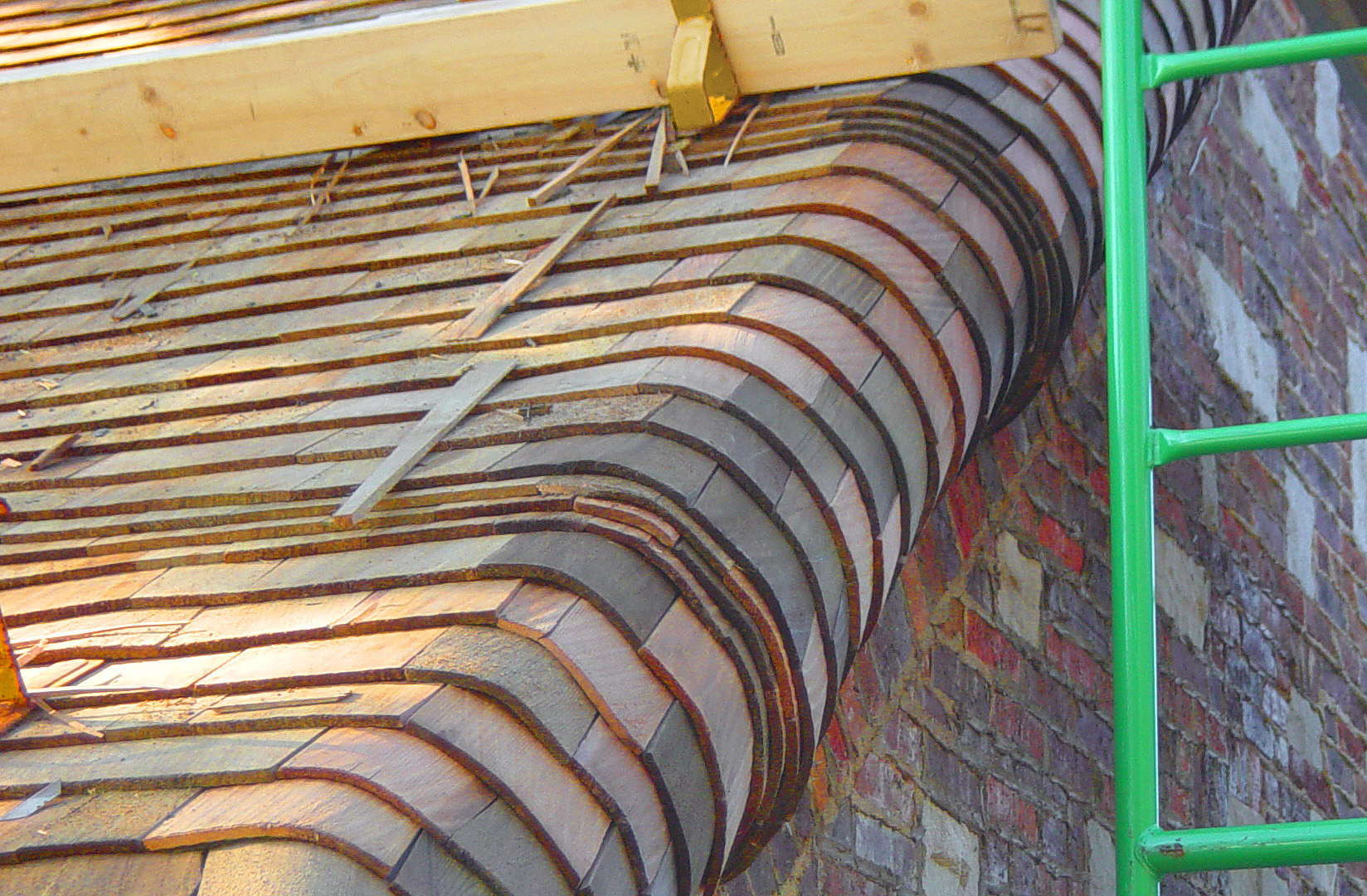 Images © 2006-2016 Custom Shingles
Request a Quote
Got a question? Send us an email, using the form below, or call our office at 386-487-1015 (local) or 877-323-3553 (toll-free)
Place Your Order Today
Minimum order amounts for select curved shingle products are as small as one box. We are happy to provide sales and service to homeowners, architects, contractors and other clients around the world. Get in touch with a Custom Shingles representative to find out what we can do for you.