Fancy Cutt™ Shingles
Wooden shingles and shakes play an important role in the curb appeal of any property. If you've made the choice to opt for real wood products over conventional asphalt or fiberglass, you know this already. Why not take your design to the next level by choosing decorative shingles from the Fancy-Cutt™ line of products by Custom Shingles?
Your choice of material is only one consideration when shopping for shingles and shakes. The Fancy-Cutt™ product line includes several pre-cut profiles to match any aesthetic or historical requirement. Our most popular profiles are diamond, fish scale, half-round, arrow, sawtooth, dragon's tooth, octagonal and wavy. You can see for yourself what these various choices look like in real-world applications by visiting our online Portfolio Gallery.
Custom Shingles' Fancy-Cutt™ products include:
Western Red, Alaskan Yellow or Eastern White Cedar shingles. We can provide shingles up to 48", though in most cases 16", 18" or 24" sizing is easiest to work with and most economical.

Teak shingles, custom cut to your project. Teak is a luxury product, and a prized hardwood with a tight grain, excellent durability and superior, extreme resistance to wind and weather. Most Teak Fancy-Cutt™ shingles we manufacture are 16" or 18" long.
Wallaba shingles, generally in 18" lengths. Wallaba is grown abundantly in South America and offers all the benefits of Teak, plus an attractive and rich red color that matures to silver over time.
Composite shingles made primarily from recycled materials. Composite shingles are the roofing product of choice when local building codes or fire regulations prohibit the use of wood. Our composite Fancy-Cutt™ shingles are virtually indistinguishable from Cedar and offer superior resistance to fungus and rot.
Not satisfied with any of the available Fancy-Cutt™ profile designs? We can also create a custom product based on your input — contact our office to speak with a representative today.
Different Types of Cut
As you might have guessed, Fancy-Cutt™ is just a category that includes different types of shingle cuts. While there are almost limitless styles and designs, here's a look at three of our most popular patterns:
Sawtooth: Shingles used to create sawtooth patterns often have pointed ends (and the sawtooth effect is created when installed next to other point-ended shingles), or via shingles that have several teeth cut into the end, so that the sawtooth effect is inherent. Custom sawtooth cedar shingles are among the most popular designs.
Half-Round: Custom half-round cedar shingles are fully rounded with no corners on the exposed end. They appear like individual droplets of rain that are just about to fall. The half-round pattern is one of the most popular, and it's also one that's more likely to work with different styles of architecture than something as dramatic as the sawtooth pattern.
Fish-Scale: Custom fish-scale cedar shingles are close cousins to the half-round. Fish-scale shingles are similarly rounded at the ends, but they aren't as dramatically rounded — and they curve into corners that than extend into straight lines at the installation point. Custom cedar fish-scale shingles are a great way to go if you like the idea of rounded shingles but don't want the effect to be too dramatic.
This is just a sampling of the patterns and designs we work with. You can also choose custom arrow cedar shingles, custom diamond cedar shingles, custom half cove cedar shingles and more.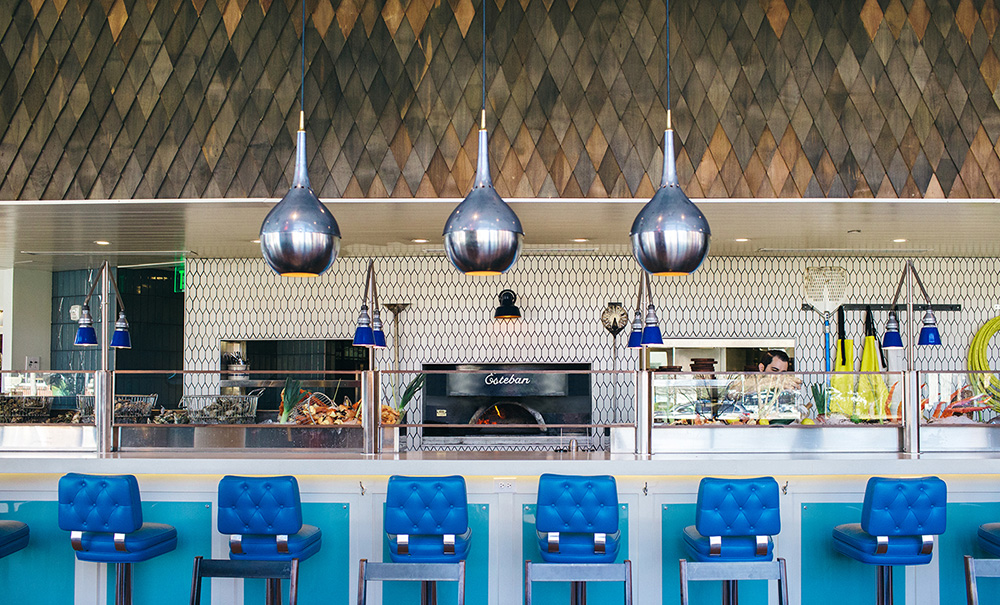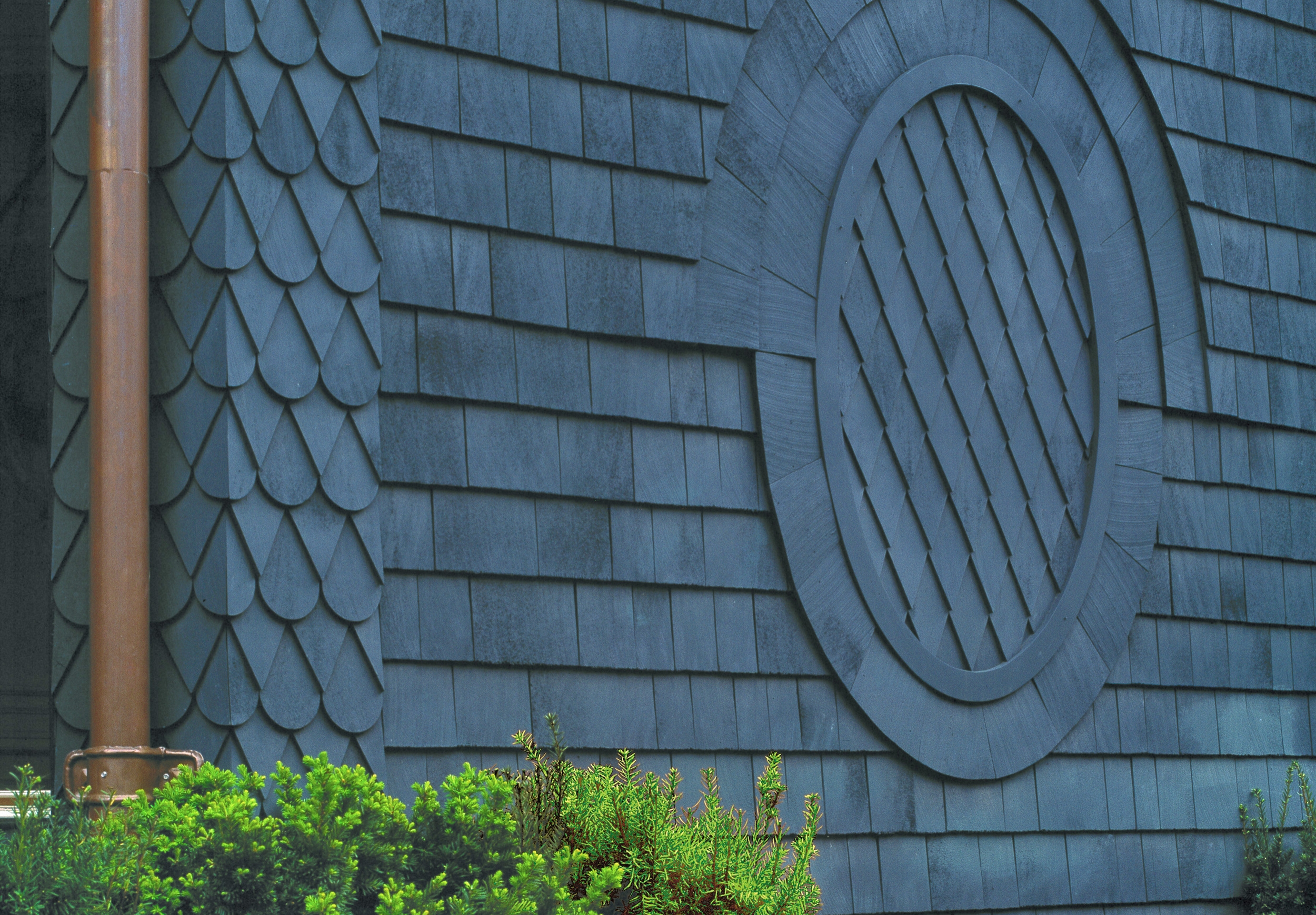 Images © 2006-2016 Custom Shingles
Details & Examples:
Fancy-Cutt™ decorative shingles can be used to add additional visual interest to any Cedar roof. Many of our customers contact us to replicate a specific design for historical accuracy. We can work from a photo, template or description to create a profile that matches your requirements exactly.
Our products are an excellent choice for restaurants, lodges, cottages and more. We've even had our products displayed at the Southern California Institute of Architecture, and been featured in Better Homes and Gardens, Architectural Digest and other prominent publications.
Finishing Options
A number of different finishing options add to the versatility of our shingles. Our products can be stained the color of your choice. For a good example of the creative ways our clients have worked with this, check out the "5-Color Masterpiece" article in our blog.
We also offer chromated copper arsenate (CCA) coatings that provide improved resistance to mildew and fungus. In addition, Certi-Guard™ fire-treated products are available for use in Class A, B and C roofing systems.
Fancy-Cutt™ shingles have a minimum order of five boxes. For more information, or to request a quote, contact a representative directly using the form on this page.
Request a Quote
Got a question? Send us an email, using the form below, or call our office at 386-487-1015 (local) or (877) 323-3553 (toll-free)
Order Information:
There is a minimum order requirement for some of our products. For curved Cedar shingle orders, the minimum quantity requirement is just one (1) box. For Fancy-Cutt shingles, the minimum order is five (5) boxes. Depending upon current inventory, our minimum order for Wallaba and Teak shingles is generally 2,500 SF. Please contact us for additional details.
What You Can Expect at Custom Shingles
Many of our customers have an idea of the look and feel they want to achieve. But when it comes to describing what they want or to choosing the right materials to achieve that vision, they struggle. At Custom Shingles, we help you simplify the many choices that have to be made before installation begins. We can help you sort through your specialty cedar siding and specialty wood shingle options so you consider only the designs and materials that are best-suited to complement your home's existing architecture.
We are a resource for you throughout the process, walking alongside you as you make the right decisions to enhance your home through Fancy-Cutt™ shingles or siding.
Why Choose Custom Shingles?
Since 1982, we have been working with owners of historic homes to create special wood roofing and siding solutions that simply can't be replicated by other providers. Using real wood to create siding and roofing is more than just a service or trade — it's an art form. We take this art form seriously and we've developed it through more than 35 years of business. We have the tools, knowledge and experience needed to create outstanding results at your home.
We go the extra mile to ensure you're getting exactly what you want out of an investment in custom fancy cedar shingles or siding. We provide free estimates and quotes before work begins. We also can help design roofing solutions, assess existing roofing, provide inspections and more. Fancy-Cutt™ shingles and siding have the power to transform a historic home and help it reach its peak attractiveness and realize its full potential. At Custom Shingles, we help homeowners like you transform their properties each and every day.
Interested in a free quote on custom decorative cedar shingles? Simply fill out our contact form and we will get in touch with you as soon as possible.